This post has been sponsored by Dealspotr. All opinions are my own. This post includes affiliate links.
There is nothing more frustrating for a coupon savvy online shopper like me than searching for a good deal online just to find out it's either expired or the coupon code is invalid. I will tell you this, I very rarely buy products at full price. Before any of my purchases, I always check for good deals and available coupons. There are quite a bit of websites available around that promise to help you save money by providing all those deals and codes. Personally, for me, it gets a bit overwhelming at times because a lot of those websites, unfortunately, do not update their content, therefore, you are stuck with some invalid codes and deals that don't exist anymore. And who has time to deal with that?
I joined Dealspotr a good few months ago and before I will jump into more details about how the website works and what does it offer, I have to mention that number one thing I really appreciate about it is the accuracy of the deals you can find there.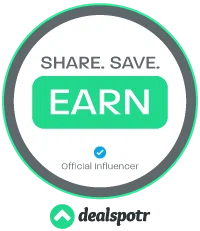 How Dealspotr works?
When you first sign up (the website is totally FREE to join), you choose categories that you are interested in which helps customize the deals for you. Dealspotr works similar to facebook news feed, it creates your own customized personal feed of deals by showing you your hand picked stores. This fully customized option is not available on any other deal & coupon website and it's probably one of my favorite parts of the website. You can also you a search bar if you are looking for a specific brand or item that is not something you want to have in your feed
If you are in the mood to just browse around you also have the option to sort deals by the most popular, newest and more! Dealspotr ability to customize and narrow down deals to the exact ones you are looking for (for example free shipping or BOGO) is pretty impressive!
Deals accuracy on Dealspotr
All deals & coupons are personally added and edited by
Dealspotr
members (people like you and me) and made sure they are accurate. What's in it for them? Well, the more helpful they are the more points they collect which are then exchanged for free Amazon gift cards.
How to earn free Amazon gift cards?
The answer is actually pretty simple: by posting and validating deals, being active on the website (commenting under deals and finishing your daily checklist which alone gives you 200 points) and referring new members. The more members the more fabulous and accurate deals. And for every 10,000 points, you will receive $10 Amazon gift card, how awesome is that!


Personally, in my opinion, the most effective way to earn points is to post deals and if people will like them aka they "spot a deal", they can up-vote them which will turn them into "
Hot Deal
" and that will earn you even more points (that happened to one of the deals I posted about a printer I recently purchased and I wasn't even expecting it go that big, but people loved it!).
Refer a friend and earn 10% of their total points! Forever!
Other Dealspotr fun features
Dealspotr
not only has a members forum where you can easily get in touch with other people as well as admins and they reply quickly but also their blog section.
Dealspotr
blog section is filled with interesting articles and great tips on how to save even more money shopping.
There are many reasons on to why you should join Dealspotr. It's free, the website is super easy to navigate, you save money and you make money!As a person who is always on a lookout for a good deal, I enjoy using Dealspotr and I love sharing my finds with other members. Join Dealspotr for FREE now!
Have a great week!
xox